Malorndk:
Looks nice!

This message was automatically appended because it was too short.
AtomTaylor:
Thanks guys, some updates today.




Manacles need lots of tidy filling.




Ass Cannon Barrel wayward outer hairs coming along.


Admiral:
Very good work on the crewman! The manacles look promising, strong and heavy. And the stray hair has lifted the fur, and even given it a sense of speeding against the wind, which isn't inappropriate at all with a stationary Daemonic artillery piece. Keep it up! Oh, and you might want to consider adding a few small groups of pockmarks to go along with the warts. It could help add skin texture, especially to the as of now sleek cannon barrel.
AtomTaylor:
The barrel is pretty much hidden behind the body parts when assembled, except for the end section and a bit of the middle.I'll add some textures here and there.

Look's like I'm on track for completion this week. Looking forward to getting back to painting. My Chaos Dwarf

Battalion is crying out for paint.
Admiral:
Sweet, I anticipate the model's completion and casting eagerly! Good luck with painting.
AtomTaylor:
Chaos Dwarf Engine Boss WIP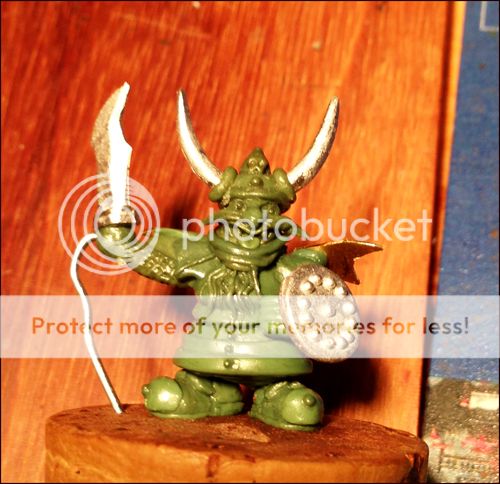 The Business End




On track for completion tomorrow. Off to the casters on Friday.
Admiral:
The biceps vein adds a lot to the model. Good job! A few discreet ones more across the demon won't hurt.
AtomTaylor:
The biceps vein adds a lot to the model. Good job! A few discreet ones more across the demon won't hurt.

Admiral
I'm going to run more up the fore-arm and body. I'm still working on the Mirror flip side. Day of sculpting tomorrow should finish it. ;)
Admiral:
Looking pretty good. The right amount of rivets on the armour skirt.
AtomTaylor:
Almost there, just a few hours more. My caster was away at a show today so it meant I could have the weekend.


Admiral:
Sweet! The details have livened up the piece, well done. You still plan to add runes to the shackles I hope? Also, you could perhaps add eyeballs to the sockets in the face at the behind. Just a thought. If you have the weekend to spare, you could always go the extra length an add a slew of little details to the cannon and its wooden board platform. Besides, one of the forearms could do with a wart to break up the long smooth surfaces, and both forearms could perhaps have some small veins for the same purpose of texture.

I'm sure others interested in this artillery piece will also be happy with how it have turned out. I like it a lot, and it's looking better by each update.

AtomTaylor:
Completed my Chaos Dwarf Ass Cannon and Crew. Its taken 2.5 months of working in my spare time.

Its going to the casters next week. I'll keep everyone updated about when I receive the cast mini's.




It will be an easy task to drill the barrel when the sculpt is cast. I decided not to add runes on the manacles,

after some experimentation I found it rendered them all blingy and detracted from the manacled look. Hope you guys like it.

All the best, Andy T.
Admiral:
Well done, Andy! I like it a lot and will buy one. Your version have some advantages over the original unrealeased Citadel miniature, namely extra details in bulging veins, warts and rear leg manacles. The crew is also nice.

I'm sure many collectors will want it. :hat off
AtomTaylor:
A big thank you to yourself, for all the ideas and motivation. It really pushed me further, its thanks to you I've taken this as far as I have. Big up the Admiral!
Zanko:
Awesome work dude! :hat off

I was a pleasure to see the progess and the final result of your work!


                         :hashut
Fuggit Khan:
Very nice old school flair :hat off
AtomTaylor:
Thanks Zanko & Fuggit. Great site , I'm enjoying myself here.
tjub:
Cool, really impressive!
Admiral:
And up for sale ladies and gentlemen!

Looking forward to get my hands on one.