Bjorni:
Hi guys,

As some of you have gathered I'm absolutely done with my CD army. This has everything to do with my mistake of dipping them. Now my motivation for the army is shattered and if I want to expand I need to get the Dip back out again.

So I was thinking about what army to do next. I have a WE army lying ready, but also a lot of Dwarf sprues left from the CD project.

So I'm starting up a Dwarf army. I'm using Dwarf rules and mostly Dwarfs models. BUT to tie it in with this site and keep a nice modelling blog, I'm doing a corrupted/chaotic Dwarf army. Maybe a Dwarven hold form the edge of the Wastes, maybe an experiment gone wrong, maybe a king who went mad and his followers to blind to see?

Anyway, I decided to do some scultping as well and get the scale mail going on all the guys. I'm using the facemasks that are included in the box for every soldier as well.

So obvious conversions are going to include:

-A deathrocket to use as grudgethrower (since I still have an unpainted one sitting around
)

-facemasks and the round marauder shields on every soldier

-Deranger loonie berzerker as slayer character (without mohawk, but with little horns sprouting from his brow?)

-Chaotic Priests to replace Runesmiths

-A chaos altar to replace the Anvil

-A 2x2 barreled Organ gun, with hellcannon wheels

-Flaming braziers as banner tops, maybe just an icon as the banner itself?

-Slaves to replace shieldbearers ? (what kind of slaves?)

-Use the Chaotic unit fillers I already build?

-Deamonic fire engine as a gyro

To further reinforce the "Chaos" Dwarf theme I'm using the classic gold/black/gold colour scheme.

Here is my tester model I knocked up from a BfsP Dwarf inbetween other projects at work.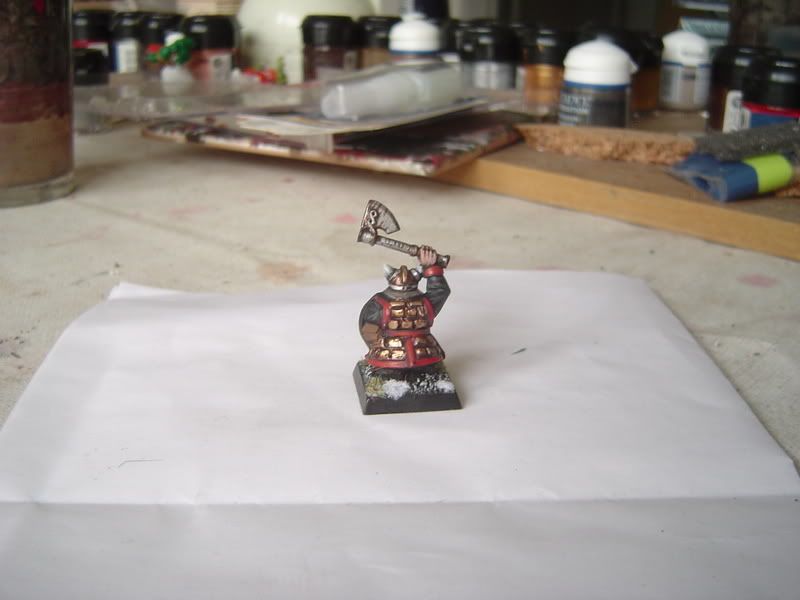 The sculpting on this is poor, and the highlights on the gold were a little to weak to shine through multiple brown/black/purple glazes. But it gives an impression.

Any other good suggestions, ideas I can steal, other units in a dwarven list with an obvious chaotic counterpart I can replace?

I'm looking at these units for now:

10 crossbows, shields (music)

25 warriors, shields, fc

Grudge thrower (deathrocket)

Organ gun

BSB

Thane

Just to get me started.

Anyway, suggestions are welcome.

Thanks,

Bjorn


---
[align=center]
2017 Image Salvage
[/align]