Mostyn:
Well as I lurk here an awful lot (what with it being a great site and all) but hardly ever post I thought I should try and put a little back into the Chaos Dwarf community.

My Orc and Goblin army is (will) actually be made up of loads of warbands with completely different themes in an attempt to keep my interest up.  One of these is call "Da Konvictz" and is themed on some jail breaking greenies from the clutches of their chaos dwarf overlords (boo, hisss!).  So the (not entirely legal) 500pts will have black orcs a chariot, some wolf boys and a black orc boss on a boar.

So why the post?  Well I got think about how to chaos dwarfise the wolf boys and I came up with this:




Working on the principle that if I was a chaos dwarf why would I cut my friend Evil Bob up and stick him on top of a bull when I have all these slaves to practice on.  Tried to keep the colour schemes uniform (everything, with the exception of the reds, has graveyard earth in it).  It's not the most dynamic of conversions as it was my first shot so I kept it easy - also I think I over did the toenails.  Either way thought you might like to see as I don't see why it couldn't be used as a hobgoblin wolf rider instead.

Likewise if you were short of Bull Centaurs I thought this might make a suitable equivalent: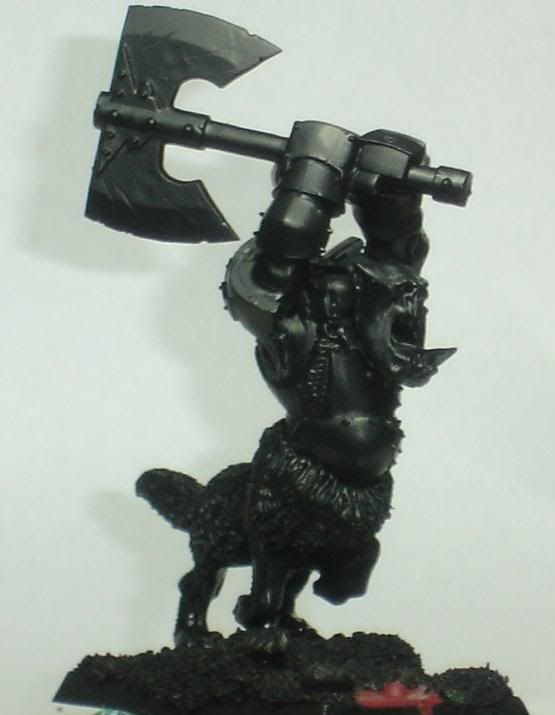 He's actually going to be the black orc boss on a boy.  Think this guy turned out better (yet to paint him obviously).  The only thing I'm not entirely sold on is the tail, but the wolf figures are just so much more dynamic than the boars

Oh, and the chariot will be my tenderiser pushed by an orc boar centaur.  There you go, I finally found a use for the damn thing :)Comments/criticism or abuse is always welcome.