felix:
Finally have enough of my army painted to show what I've got for an army.

Your basic Air Hockey/ Warhammer battle Field with green felt. Bear in mind when I started Warhammer bases were green to match the felt battlefield. I have continued that theme to keep some cohesion in the army, and I like green better anyway. (Read I started painting in green and I'm too slow of a painter to start repainting everything. Don't even get me started on the recent base size changes. When will they let me just finish!).

What I REALLY miss from the early days was the humor in the Warhammer books. It didn't take itself too seriously. Example the Death Rocket miss firirng and bouncing in several directions before exploding. I LOVED that! I like the random chaos factor.

Anyway here is my old school army. :hat off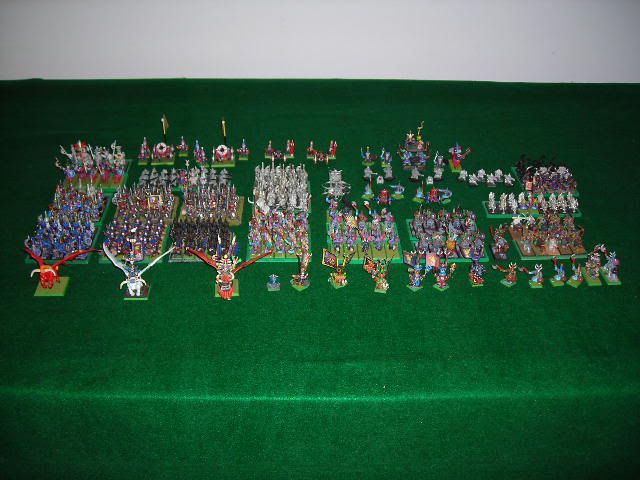 Hobgoblins with Hasslefree wooden shields.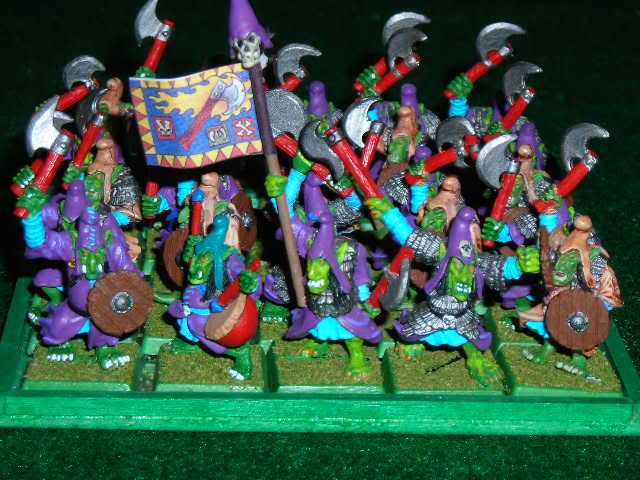 Wolf Riders with Hasslefree wolf head shields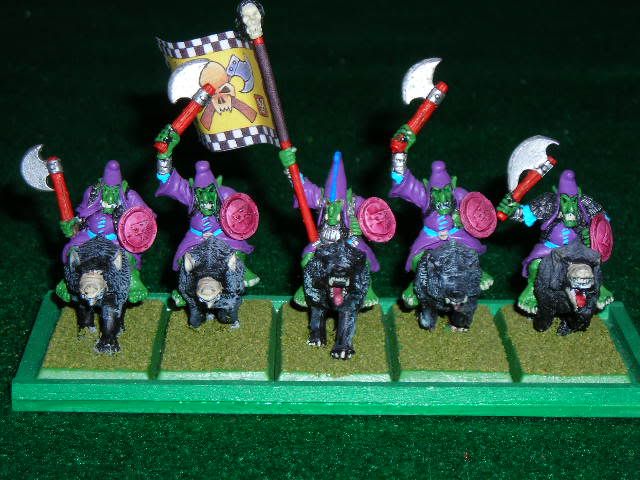 Chaos Dwarf Warriors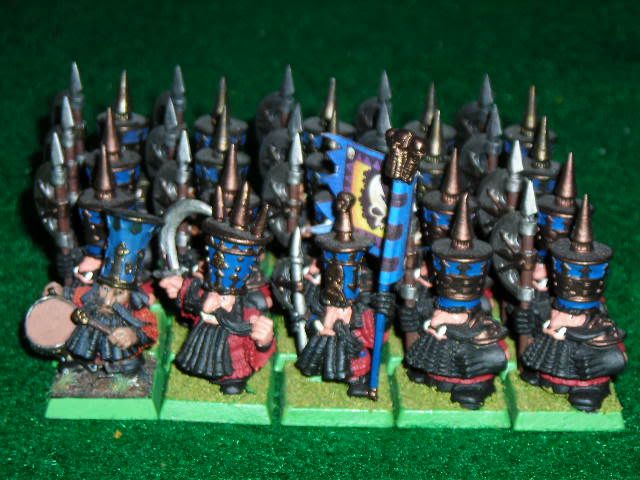 Bull Centaurs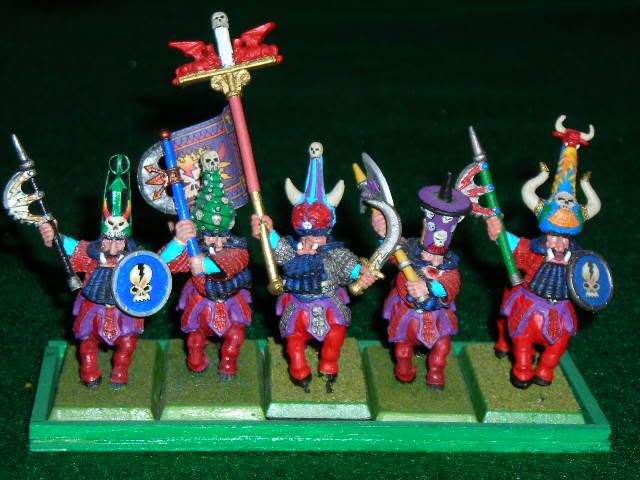 Warriors (Warrior A & B 10 of each, and in the front row Warrior A illegal recast with pointed hat for leader and on both ends in the front row Warrior B illeagal recast with Drummer's tall hat. Off ebay in a group purchase. I took pics before I painted them.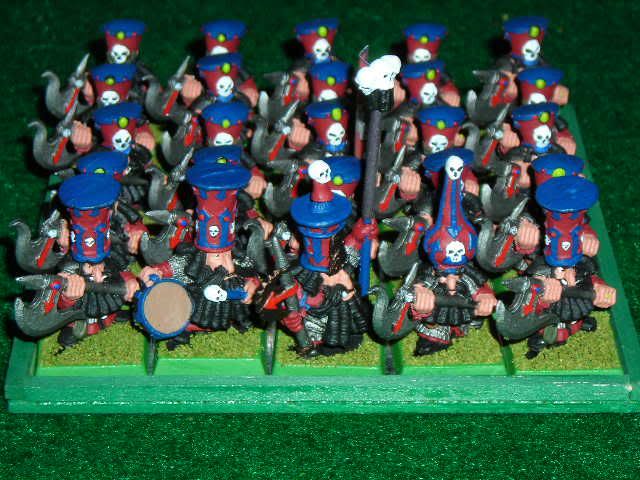 Death Rockets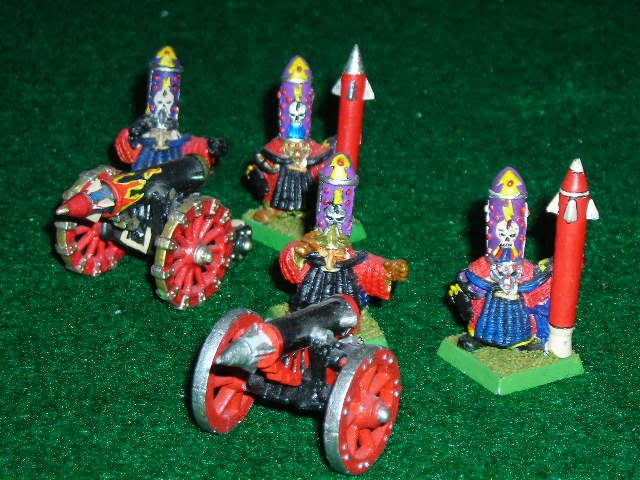 Earth Shakers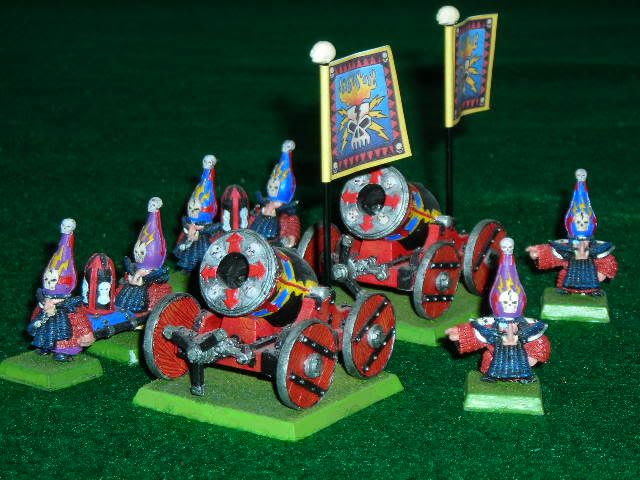 I have NO converting skills unlike almost all of you, so to get more different poses of Big Hats I added axes to Blood Bowl Chaos Dwarfs. Note the "Grateful Dead" logo shield. I'm sorry, may Hashut forgive me.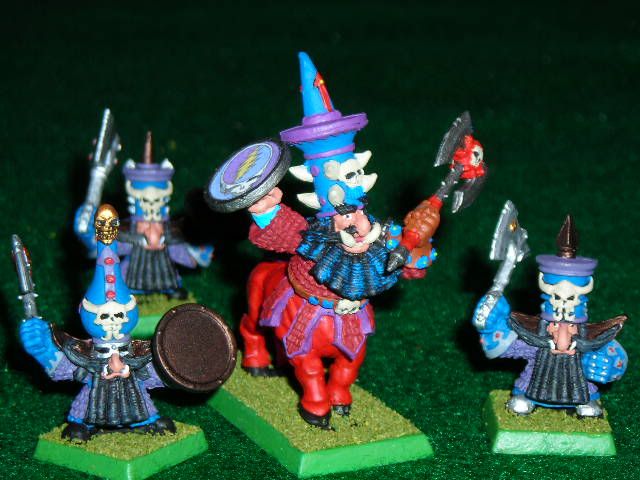 I loved the Zhatan the Black from the Indy GT book. So I made one using Blood Bowl Hobgoblins and again added axes to them,(No figures were harmed in this creation).

The two styles of Hobgoblins were not the same height, so I had to create a rocky base to even them out. Added a Blood Bowl dwarf for Zhatan, a snotling for his pet/assistant Bulwaark (I love that pet/assistant, where do you get one of those little guys?), and added the girl after I saw someone on this site site do it in a painting contest. Sorry I forget who it was right now. EDIT: Golden Hat Winner SKINK http://www.chaos-dwarfs.com/contest14.php

I was inspired by your idea, but put an old school twist on it.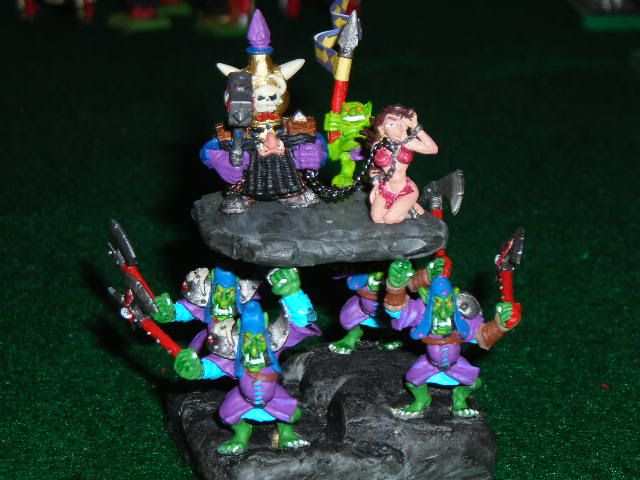 Not shown up close, because painted by someone else.

24 Blunderbusses

25 Metal Chaos Dwarf Warriors

40 Plastic Chaos Dwarf Warriors

Ghazak Kahn

Ooglah Khan

9 Wolfboyz

Sorcerer on lammasu

lord on Great Taurus

1 Great Taurus

Astragoth

3 Sorcerors

2 Hero with axe 1

Hero with axe 2

Not shown up close as they still need painting.

18 Hobgoblin Archers. (All poses).

10 Hobgoblin archers on wolves (All poses).

25 Hobgoblin Sneaky Gits. (All poses).

5 Bull Centaurs ( the other poses.)

30 Metal Chaos Dwarf Warriors. (All poses).

18 Chaos Dwarf Crossbows. (All poses).

1 Whilrwind.

3 Chaos Dwarf Bazooka Teams.

2 Chaos Dwarf Mortar teams.

I also have a Dwarf Army 99% painted, and a large painted Skaven army.


---
[align=center]
2017 Image Salvage
[/align]