Kera foehunter:
love the hobgoblin (smurfs) they are so cute
Willmark:
This army is packed with awesome goodness stem to stern, that should make Kera happy I said that.
tjub: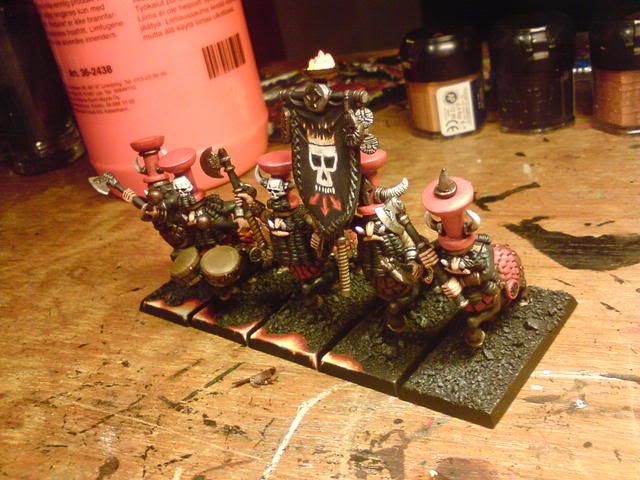 Done with my third unit, not 100% about the banner thou…

This_Is_My_Boomstick!!:
The armys looking really good, dont normally like the Tall hats but they look really great as they are shaped and not straight up like the normal ones
al-hashut:
Think they look great Tjub. Banner looks good, maybe the skull could do with beefing out but it still looks cool. Maybe a Rune of Hashut on one or both of those drums if you want to add more detail.

Great job
Bassman:
The drummer ans the two side bulls are my favorites. Great job again :hat off

Love the lava bases with continuity of the lava flow.

Banner: flames are ok, as usual, it's the skull and arrows that need more highlightens. They are too flat. I'm sure with a little bit of work you could improve them a lot.

I'd also cut away that rune on the banner for a nice free-hand rune of Hashut, but this is a minor detail.
Regards, Bassman
Kera foehunter:
looks great !!! nice painted army !! the drummer so cool

i know it too late, but the drum heads would look cool if it was a dwarf face stretched

over the drum
Arashi:
Galet snyggt Tjub!

Must say that your whole army is splendid. Really like your bullcentaurs, especially the drums your musician have!
tjub:
Just started my death rockets, so theres a lot to do still but here's the concept. Go hide you british…




Chaos Dwarf V2 rockets!

al-hashut:
lol…cowers in an anderson shelter and remembers the blitz

Good job, should look nice with a bit of GS smoke. Don't forget, you can always make a v1, with a hobbo chained/holding on for dear life
furrie:
Cool idea for a DR

This message was automatically appended because it was too short.
Kera foehunter:
What a great idea tjubs i like it that so cool
Bassman:
Cool idea, why do you not build a ramp? Even a small one would be cool.

Also consider entering Golden hat comp :hat
tjub:
Bassman: I started with a ramp, but V2 ramps were quite small so it just looked to funky and non-wahammerish.


Bassman:
Yes I know but I think a ramp is needed to aim the rocket to something. Do not think Chaos Dwarfs produced any sort of control system.

But yours rockets look funny and cool as they are, so why not leaving them as they are now?
Eternal:
I really like those death rockets! You need a chaos dwarf pressing a large red button as crew now lol.
tjub:
@Eternal: Got plans for the crew…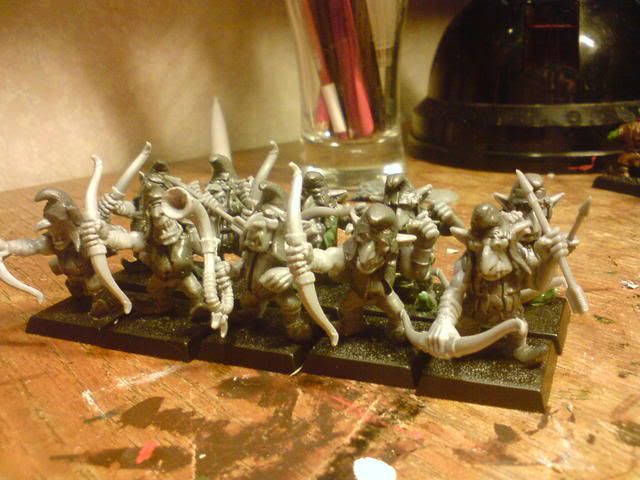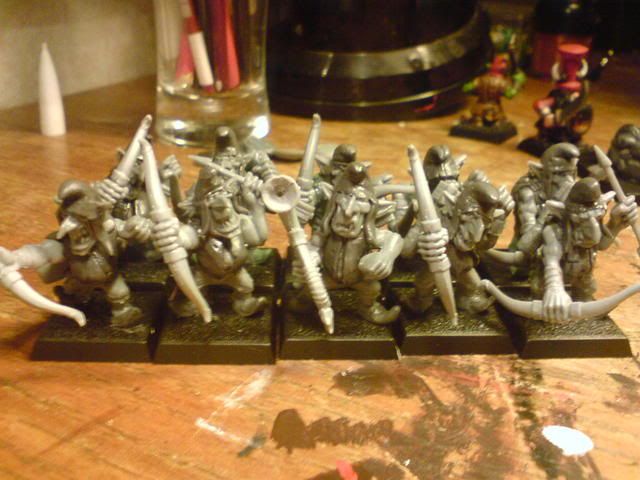 Finally a unit of Hobgobbo archers!
theimmortal:
a v2 can oonly scare you if your scared of it, great army man
tjub:
@theimmortal: True, but damn cool!
theimmortal:
@theimmortal: True, but damn cool! ;)

tjub
are you useing grey stuff to model now???
i love it the whole tusked guys , to bad im so embarased by my atempts to green stuff to post them