Nicodemus:
I'm on the hunt for some older Citadel Hobgoblins, circa 1980s.  If anyone has some of these models rattling around in their collection gathering dust I can provide a good home to them!

Top of my wanted list is one or more Temple Dogs / Foo Dogs with a Hobgoblin rider (top of my list, but ironically, it's at the bottom in the pic).  I know these show up on eBay periodically, but I seem to keep missing them.  Alternatively, just the Temple Dog model would be OK as well!

I'm also after some of the older Hobgoblin Warrior models pictured below (don't need the ones marked with an "X"), as well as a set of Nick Lund's Citadel/Chronicle N12 Hobgoblins.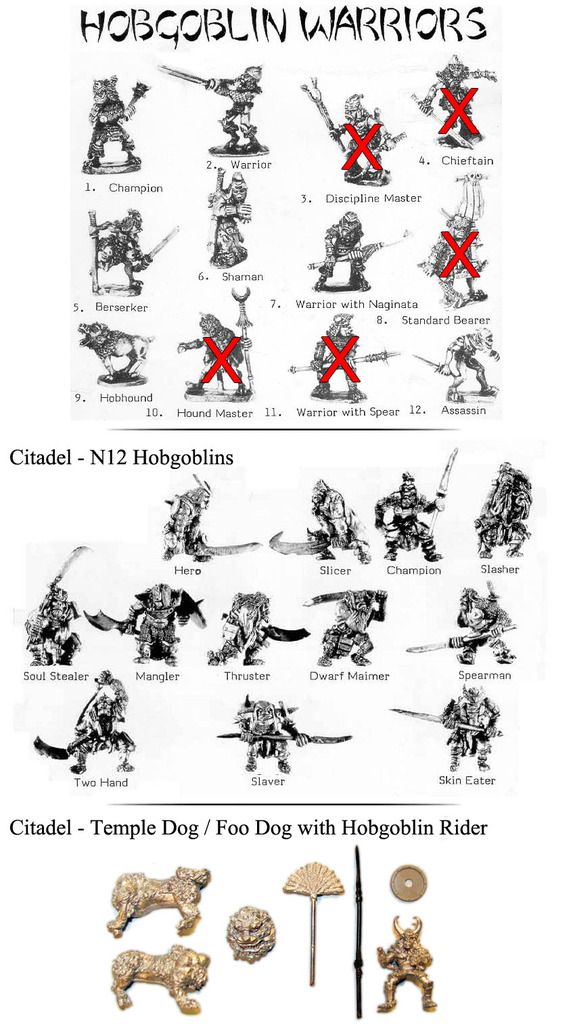 Feel free to send me a PM.  I can offer cash via Paypal and I will cover shipping to Canada, of course! I'm happy to pay a reasonable price, but I am looking for something below the gouging prices on eBay x.x

Thanks for the look-see!

~N