Thanks! That's the kind of miniature that "paints itself". Wonderful model.
Pretty feels like a weird compliment but it is fitting! Lovley models mate!
May 2022
I was seduced by a local gaming convention - got myself some wolf riders and a human command set. In spite of this May was a good month for BATG. Lots of Hobgoblins. Lots and lots of Hobgoblins. The spares from Dominion and aforementioned wolf riders mean they'll be many more.
May was also the month that my Raven Twin Kickstarter finally arrived! This was pledged in…December 2020? So while they've certainly swollen my collection, I am not counting them towards BATG since I did not commit the sin of purchasing this year. Painted a couple of test models this month and looking forward to building a grand shield wall from spear-wielding Immortals.
Added to the pile: 24
Painted: 42
May score: -18

26 x Hobgoblins


4 x Hobgoblin Warg Riders


9 x Russian Alternative Chaos Dwarf Warriors


3 x Raven Twin Chaos Dwarf Immortals

15 x Oathmark Wolf Riders


5 x Wargs


4 x Empire Command
Total BATG to date
Additions: 52
Painted: 148
Tally: -96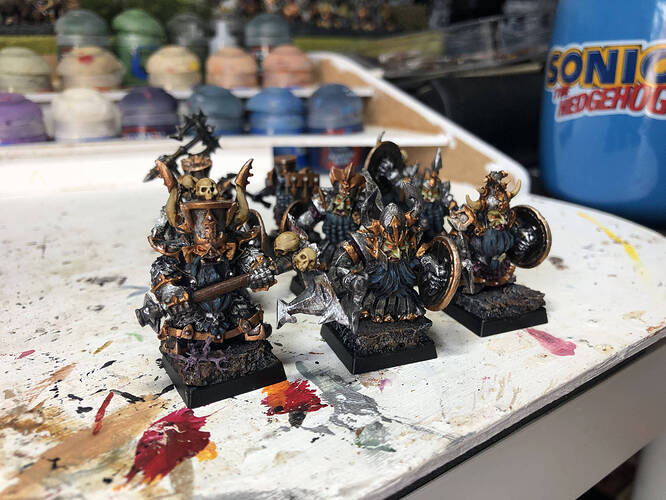 Setback! I painted a catapult and two crew, Dr Robotnik, and an as-yet-unveiled Golden Hat. However I succumbed to temptation and got myself 10 Leopard Men + 2 elf dragon riders. The latter are proxies for Asarnil, before you accuse me of collecting High Elves.
And so double digits remain a hair's breadth away. I reach the summer solstice on -89
June 2022
Added to the pile: 12
Painted: 5
June score: +7
Total
Additions: 64
Painted: 153
Tally: -89
Oh no! This isn't the direction we should be going! +1 for July due to Dogs of War proxies (The Assault Group, excellent minis).
Some nice painting though, plus a solid start to my mercenaries. Voland's Venators have enjoyed two victories on the tabletop so far. Good lads.
July 2022
Added to the pile: 25
Painted: 24
July score: +1
Total
Additions: 89
Painted: 177
Tally: -88

6 x Leopard Men


8 x Voland's Venators


1 x Grudge Pony


1 x Hireling Wizard


1 x Dwarf Engineer


6 x Dwarfs

1 x Undead Dwarf


24 x Crossbowmen
My fruits ripened in August. I also painted lots.
Summer has me deep in Dogs of War. With but a handful to go, I look forward to revisiting my Chorfs and Hobgoblins to support the @PerpetualCampaign war effort. Better get priming before the alleged rainfall…
Update: Voland's Venators have now won three victories. Those reprobates.

6 x Dwarfs


14 x Leopard Men


1 x Borgio the Besieger


1 x Dwarf Lord


4 x Anvil of Doom


1 x Puddle, the melted orc


22 x Marksmen of Miragliano
= 49

7 x Wolves


3 x Blackadder heroes (damn right, Blackadder)
=10
Total so far
Additions: 99
Painted: 226
Tally: -127
I know I'm going back a bit here but I've been away

Have to say the glows around the eyes on this Warmachine are perfect
Amazing paintjobs across the board