That magma cannon looks FANTASTIC!
Srubbed squats free from 25 year old paint and finished 7 small chaos dwarfs and had some progress on big dude.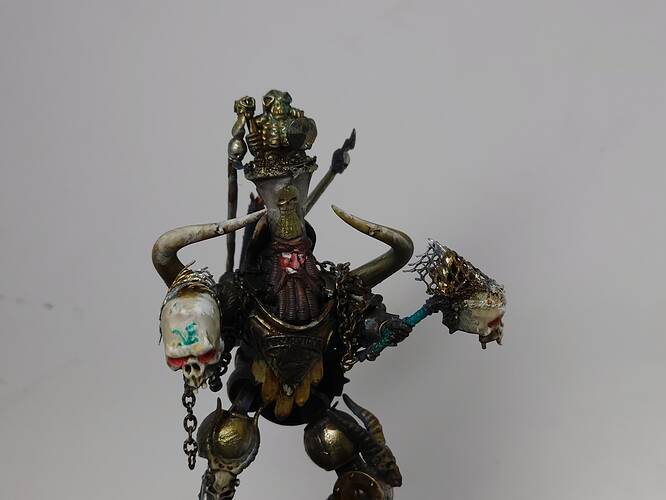 i like your conversion, it brings the good one up to 2000+ standards
Dang, thats a great conversion you got there!

13 heroquest models bites the paint! After the longest break i ever had from painting in years (2.5weeks).
heroquest figures were all in plastic right?
Ayup! Super hard plastic not very flexible
Looking back…the heroquest models were a great range. The ogres snd chaos warriors are my favourites.
I owned the game from a child but never had any1 to play it with. Played 2 games a couple of years ago…plays well too!
First models of February.
13 smaller chaos dwarfs models. Finishing up hobgoblins and 2 Dungeon Quest models
So today little laketide slept during the day(!!) And in my lap. So i managed paint pretty much all day. 21 models all in all. Chorfs with gr8 wpns and shield and inferno gun and a DungeonQuest model.
Lost my steam after last 20+ minis marathon and started playing path of exile instead. But a few riders are tabletop ready now atleast

Two monster done and only basing left to do
Beautiful and prolific work. Excellent use of the Dewback!
Thanks bud! Yeah the dewbacks are somehow one of my favorites now. From being improvised bitzbox built
As you probably guessed which Golden mini was mine, i can now show it. Most of it was done before baby was born. Its a beastiarium miniature with lost kingdom stuff printed and magnetized on it.
I can now either have a general or a cannon on ALL MY vehichles and monsters. You just pop em up and swap em as i want.
Below are some progress pictures. Painted with airbrush and oils and some acrylic too.

Servus,
A cool model and exceptionally rebuilt. In general, it is an art form how you put together the different components of various designers.
The painting is also great and fits very well to the monster and also to your army.
(Please show a picture of your general on throne, the conversion looks interesting).
I loved how you did the skin on this monster. Looks great. What type of monster is it?
the general on throne is a real kitbash… the throne is made from frost phoenix high elf kit, troggoth arms and 3d printed cogs and skulls. Mashed together with lots of chain. The general himself is a lost kingdom model with an ogre mace arm instead of holding naked lady as it is in the original print. i will see if i find some progress pictures on it. thank you so much