Captain Ricco of Remas:
IMMORTAL WARHAMMER - THE 9TH AGE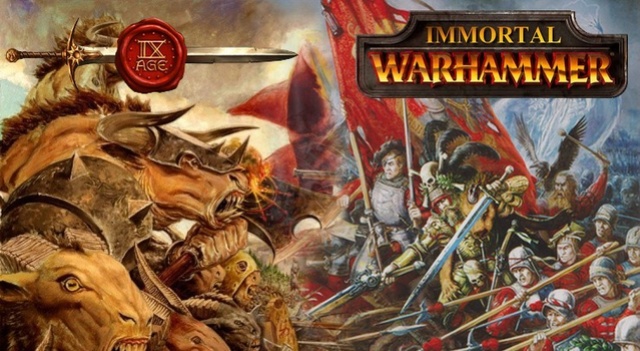 Greetings,

Today I present to you the French project "Immortal Warhammer" for the 9th Age.  

Our site: http://immortal-wfb.forumactif.org/

What is Immortal Warhammer?

It's a non-official Warhammer project which consists in keeping the Warhammer Fantasy Battle background in new wargames like Age of Sigmar, Kings of War and The 9th Age.

The objective:

Create a "New Warhammer Edition" based on famous wargames but we do not create our own 9th version like Mathias Eliasson and many other projects.

For this we use the few similarities between the two fantasy universes and we use equivalence lists presented on different forums (for example the French KoW equivalence lists or the French 9th Age equivalence list). But these lists are imperfect and we need to innovate a bit.

For the time being our work consists in replacing 9th Age names with Warhammer names in armybooks (we do not modify the rule book and the magic book). Our document is completely compatible with the 9th Age official rules. But, on the other hand, these documents are completely unofficial and in no way endorsed by The 9th Age or Games Workshop.

What's the point?

We hope that it can help people to go from Warhammer to another game while allowing you to play these games in the famous Warhammer Fantasy background.

You also can consider our project as a Warhammer "mod" for the 9th Age.

Our slogan: Play what you want, with the rules you want, with the background you want.

You can find the 9th Age documents on this page:

The 9th Age - English

Only the V1.0.0 version (and its v1.1.0 corrective update) is available now. We will work on the v2 when it will come out.

If you like complete book with pictures and background, you can see the complete Dwarf armybook on the French document page:

http://immortal-wfb.forumactif.org/t7-le-9e-age-francais

Note: We are a little group of French people who are working on this project. And we have a lot to do with Kings of War, The 9th Age, Age of Sigmar and the French and English version. So, our working speed is not the fastest. You must then be patient, but we are trying our best to bring it to you as soon as possible.

If you detect mistakes in our documents, you can note it here. We will try to correct it quickly.

Glory to Warhammer! Long live the 9th Age!