superfella:
Afternoon all!

Im a bit rubbish when it comes to finishing projects (still havent finished those damn bretonians from my 1000 point WFB challenge against Starscream…) but I figured I have enough converted & painted Chaos Dwarves to fields a legal army (though a very small one), and that I would put some pictures up.

I havent based them yet (have glued sand to the base of my bull centaurs, but thats all) as i havent decided whether to base them like all my other armies, or whether to have a try at lava bases… im tempted by lava bases, cos ive seen some fantastically good examples, but im worried that a poor finish will ruin models that im otherwise 100% chuffed with.

anyways, without further ado, here is my progress so far (started the infantry this time last year, did the bull centaurs about a year before that).




this is my unit of Chaos Dwarf Warriors, with shields & full command. The ogre unit filler was inspired by several people on here, i just cant remember exactly who! im intending on painting the rune of hashut on the banner at some point too.




this is my blunderbuss unit - as you will see in one of the other photos, im currently working on another 4 of these, plus a unit filler… in the shape of an ogre with a shoulder mounted bazooka!

thanks to Kera for trading me the dwarf thunderer's i needed to make these! and thanks to all the guys who have given me their militia blunderbuss arms too!




my bull centaurs - had a great time converting these - some of you may remember the blog i did to show how i made them. im planning on sculpting a replacement unit in the near future, and using these as spares, as im not too happy with how the legs came out (and i want to sculpt on more armour, to refelect the chaos armour upgrade from the Indy GT book)




these are my two Chaos Dwarf Heroes - The one on the left I usually use as a unit champion for my warriors. the one on the right is gonna get "demoted" to an immortal when i finish the unit… they will look just like him, with their gold helmets showing their elite status.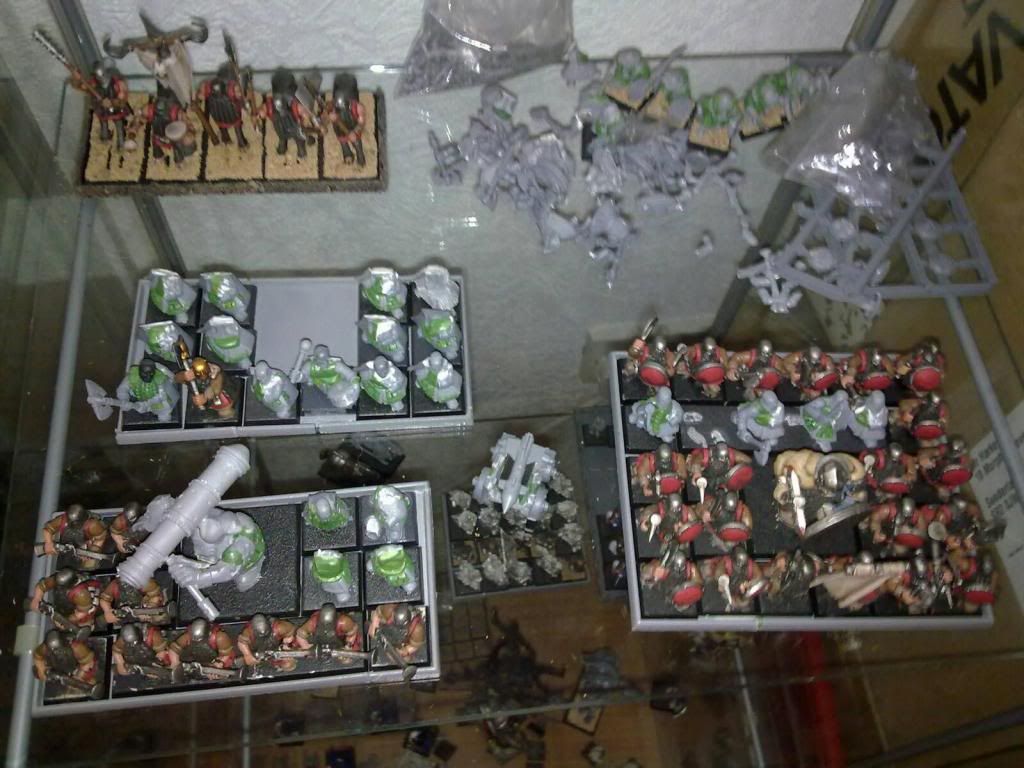 finally my army so far - you can see the warriors, blunderbuss and imortals here, plus my bull centaurs & pile'o'gubbins im using to make more (like to keep all my bits in the same cabinet or i end up losing them!). you can also see (though its a terrible angle… sorry!) my deathrocket WIP, between the warriors & blunderbuss.

unfortunately ive run out of greenstuff and havent the spare coins to buy more at the present moment in time, but once i do, i will hopefully pull out the proverbial finger and get more work done.

so there we have it! hope you like these, and any constructive feedback is very welcome! be nice!

oh, and if anyone can give me help with how to replicate great looking lava bases, id be in your debt!

chow for now!

Superfella


---
[align=center]
2017 Image Salvage
[/align]