Nicodemus:
Further to this thread on the Earthshaker in 8th:

My Chaos Dwarf Arcane Engineers have been looking over their calculations and have prepared some updated technical specifications for our Earthshakers under the new Rule of Law.

Targets hit by Earthshakers move at half rate, and this effects all movement, including charges, pursuits, etc.

There are important conceptual differences, however, under 8th Edition with regards to the Random Charge rule - where charge ranges are normally resolved with 2D6+Mv. It is folly to insist that affected targets charge 1D6+½Mv, as opposed to ½*(2D6+Mv).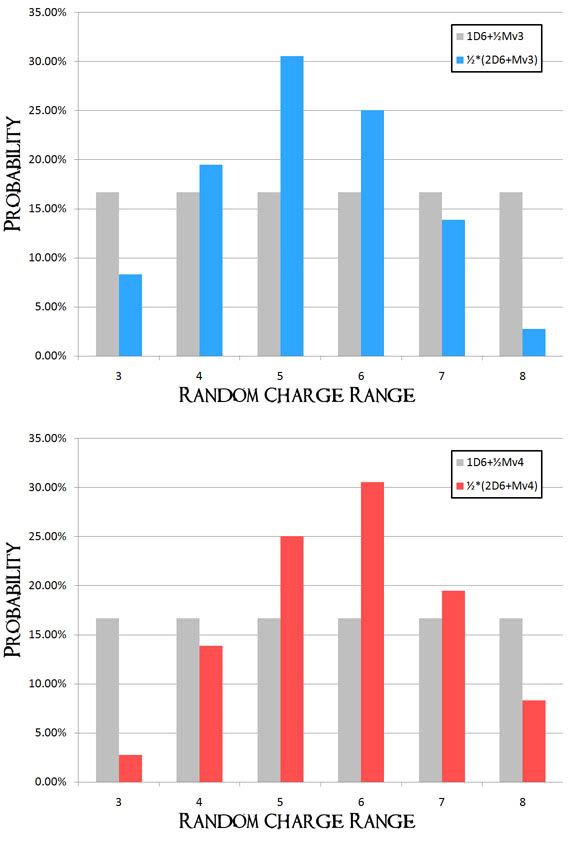 Keep in mind that fractions are rounded up, so the halved rate for Mv 3 and Mv 4 models is the same (3-8"), but the probabilities are altogether different. Probabilities for Mv 3 models are skewed toward the lower side, whereas Mv 4 models are skewed higher, but the range is the same. In any event, the probability curves for 1D6+½Mv versus ½*(2D6+Mv) are completely different and this is worth bearing in mind for those Dawi Zharr Generals who wish to field these warmachines. Your opponents may not short-cut the range rolls by rolling 1D6+½Mv, as the probability curve is flat, whereas ½*(2D6+Mv) preserves the original probability distribution. Rolling 1D6+½Mv makes an 8" range as equally likely as 5" or 6", and totally negates the real difference between Mv 3 and Mv 4 units.

My brethren - do not allow the foes of the Dawi Zharr Imperium to roll 1D6+½Mv. The damned Dawi will benefit in particular from this contemptible practice, and we will give them no quarter! Their bones and flesh will fuel our forges and warmachines yet!




For Hashut!