JMR:
Hello all,

I wanted to show of some of the miniatures I'm working on right now. I find myself working on a zillion different armies at once for some reason, while I used to play just 1 army for years.

I've purchased a box of Privateer Press' Skinwalkers. Ever since I first saw them I knew I had to have them someday. Here's my progress on the first one: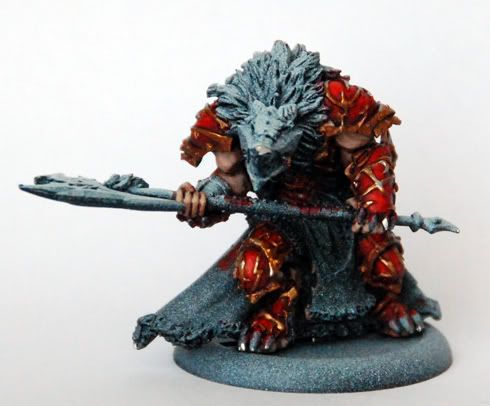 I intend to use these as Dragon Ogres in my WoC army. I have had some (in my humble opinion) awesome ideas for a feral/wolf themed Khorne army in my head for ages. This is the first step in realising said army.

At the same time, I'm painting up some undead. Using Mantic's cheap-o, yet excellent miniatures.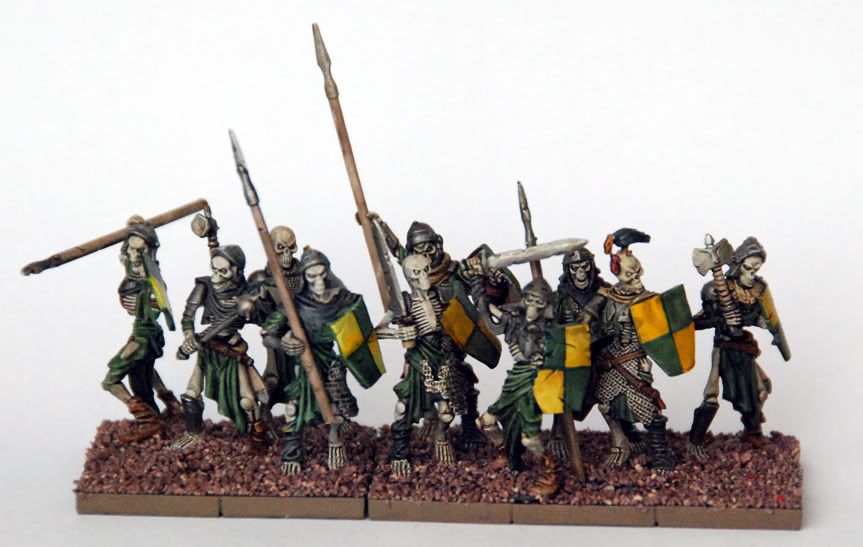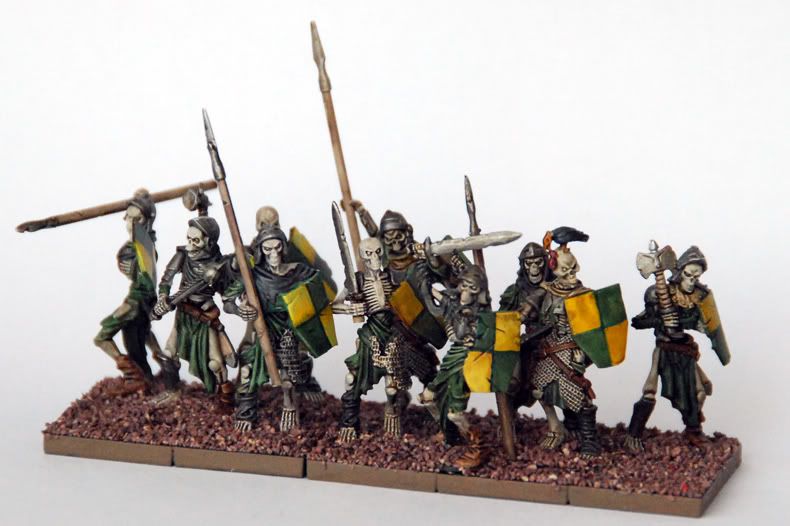 The colour scheme is shamelessly stolen from a plog I saw on Warseer. I normally never use green or yellow and it normally wouldn't be my first choice of colours for skeletons at all, but it's fun to do something different. They're speed-painted and the bases aren't finished yet. I also need to redefine the yellow on some of them.

I'm using combined bases to give me a bit more freedom with positioning of the models. This allows me to disrupt the ranks a bit and create a more ramshackle horde of undead. I intend to have more elite units (Grave Guards/Revenants) look more organised.

A small word on mantic's models. When seeing pictures of the skeletons on the web, I've had mixed feelings about these models, but once I was building and later painting them I started to appreciate them more and more. They simply have a different vibe from GW's skeletons. Mantic's skeletons give me more of a "classic" Dungeons&Dragons skeletal warrior. They're well detailed, fun to paint, very quick to assemble and have a lot of character. Oh, and they're about a third of the price of GW skeletons or so
Good stuff.

Questions or comments are most welcome!