Hrothgar Goldgreed:
I finally got some time to get this sorted; I'm selling off al the bitz I don't need.
Prices are not included; we'll discuss these over PM. I figured that giving prices is a bit difficult, considering I'd have to give three constantly changing currencies. All models are sold as seen - simply meaning that some are incomplete and that none come with (GW) bases. I won't scam you, trust me.

Pictures are numbered to make things easy; I'm not selling in lots.

1.: Dwarf spearmen
Although I do like the models, these spearmen don't have the feeling I want them to have for my unit (they have chainmail, for example). Therefore, I'd preferably like to trade these spearmen for other spearmen, preferably ones like these.



Left to right, upper row then lower row:
complete plugin spearman,
clansman with spear,
two norse with spear,
plugin spearman,
four incomplete plugin spearmen,
clansman with spear,
another clansman with spear.

2. More Dwarfs


Left to right, upper row then lower row:
Grudge pony (plastic),
OOP Ranger,
broken clansman,
Slayer musician,
PENDINGOOP Thorgrim,
PENDINGOOP Thunderer,
PENDINGtwo alternative produced handgunners,
PENDINGtwo more OOP Thunderers.

3. Chaos Dwarfs


Four (OOP) CD Warriors and a CDGeneral.

4. Greenskins & the like


Left to right, upper row then lower row:
The tabs say shamans for the first two figures,
Third one is a complete OOP goblin banner,
OOP goblin, incomplete goblin banner,
Skink,
Another Shaman,
The diver of the Goblin Doomdiver set.

5. Elves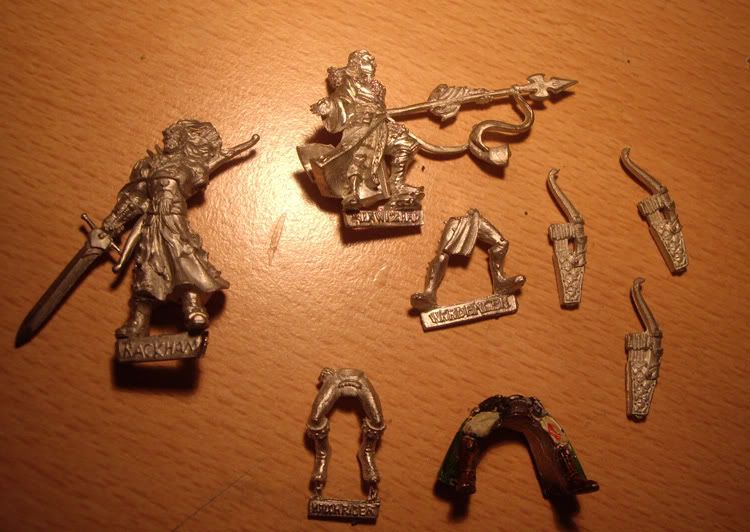 One of the figures is sure to be elf, the other tab says 'Rackham' and looks like an elf. The rest are bitz.

6. Battlefleet Gothic


Imperial stuff.

7.Random figures


Left to right, upper row then lower row:
Plastic boar,
Eagle without wings,
Empire bowman,
DoW Hobgoblin without mount,
OOP 'horror' (simply, OOP ghost).

8. Random bitz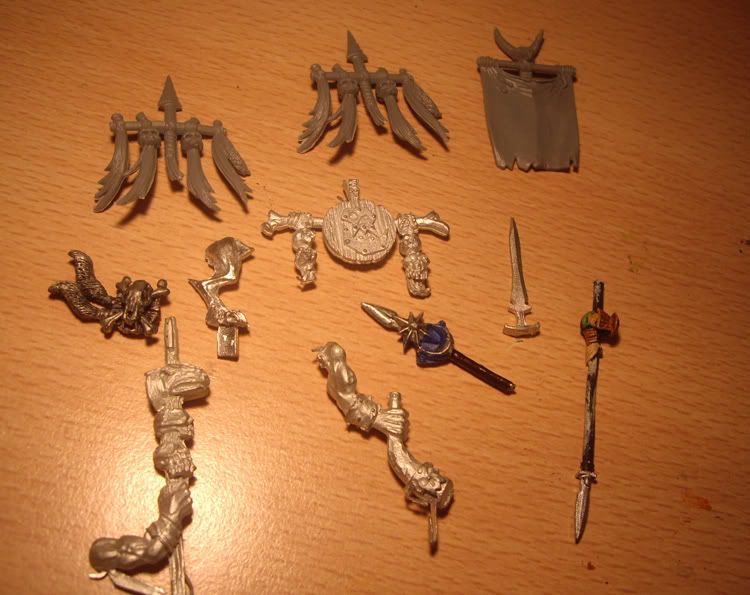 - the goblin banner that can be made out of the center and bottom left bit.

9. Shields
A pile of shields. Most likely OOP.


10. 40,000 Happy Hour!


I got all these 40K weapons spare. These are sold cheap per gram. Offer me a price and tell me how many grams you'd like; I'll completely random weigh your grams and send them over. Fun, isn't it?

I'd preferably recieve payment via Paypal. Shipping costs, including packaging and Paypal fees will go to the buyer. As said before, I'd like cash for it (GBP, Euros and even $ will do) but I'm also willing to trade! Here's a list of the stuff I'm looking for. Just offer me what you have (preferably Dwarfs, ofcourse) and I'll have a look. Mind that I hate plastic Dwarfs.