tjub:

WIP
Kera foehunter:
Yea !!! more ponyboys Sorry bull centaurs!!

they still are cool any way you look at them Tjub
Merchant:
Cool looking all over - and these are the first pony bullies that I have seen that still looks cool

furrie:

WIP


tjub
What do you do with all the trailers that belong to the pony's ? I cool use 2 more trailers :P and your bull centaurs look cool
Dino:
Very nice work. I seriously can't wait to see this unit finished. Good luck.
tjub: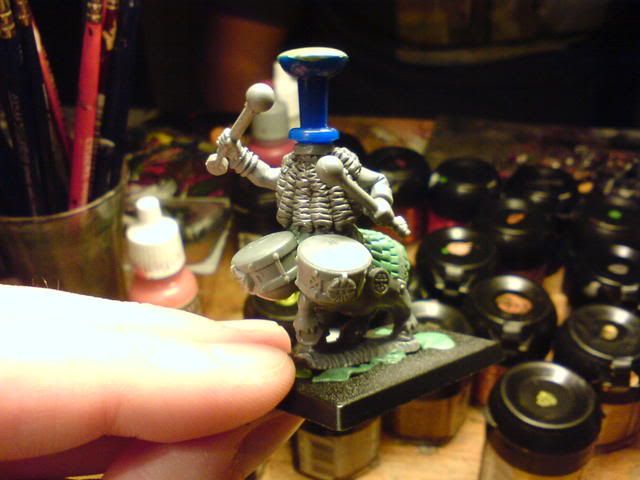 WIP update




My first four hobgobbo WIP
Ghrask Dragh:
Excellent again my friend, loving the new hobbo's!! :cheers
Kera foehunter:
OMG !!! I LOVE THE DRUMMER consider the idea stolen !!!

great job on the archers too
Merchant:
What Kira said



This message was automatically appended because it was too short.
tjub: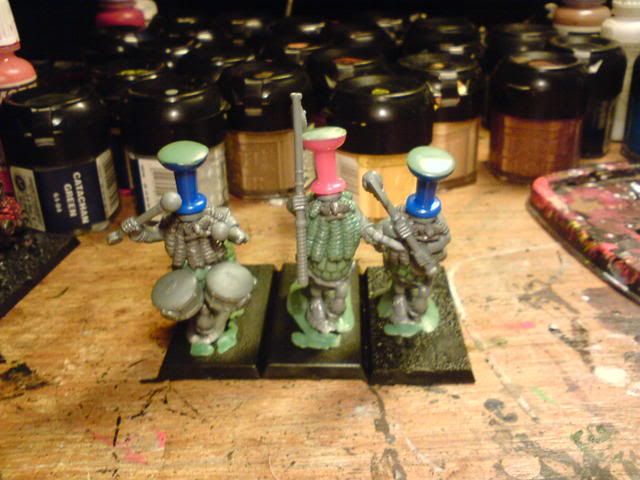 Did faces on the centaurs, but dont know how much I should pimp their hats. I might be too much if all of them got horns and skulls etc.




And finally done with these fellas, a unit of 10 is what I aimed for and then som spear chukkas and death rockets.

Bassman:
Lovely stuff again. I always check your blog for updates.

I love your command on bull centaurs but are you really going to field them with musician, champion and stadard bearer? I know modelwise he is probaly the best one but gamewise the bull musician is just 15 points thrown away… :hashut
tjub:
Thanks!

Hehe, well I didnt know that. I make/paint the models I like, then I make the list based on what models I have. So he'll be doing the drumming…

Dino:
Looking at your BC makes me want to restart mine. Nice work. Kinda like the hobgoblins. But I personally think they should be taller.
Kera foehunter:
love the hobgoblin (smurfs) they are so cute
Willmark:
This army is packed with awesome goodness stem to stern, that should make Kera happy I said that.
tjub: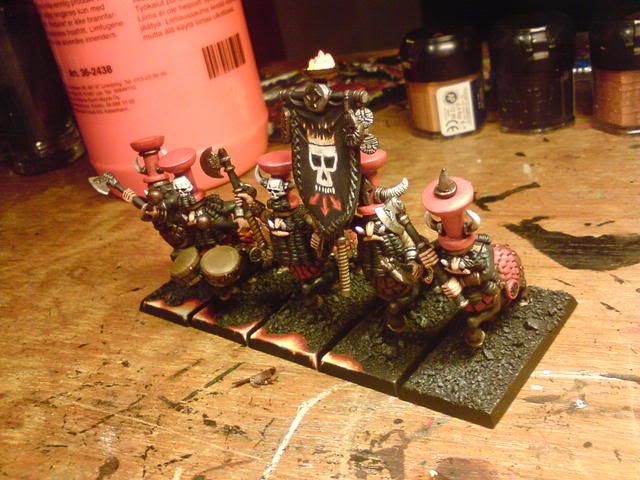 Done with my third unit, not 100% about the banner thou…

This_Is_My_Boomstick!!:
The armys looking really good, dont normally like the Tall hats but they look really great as they are shaped and not straight up like the normal ones
al-hashut:
Think they look great Tjub. Banner looks good, maybe the skull could do with beefing out but it still looks cool. Maybe a Rune of Hashut on one or both of those drums if you want to add more detail.

Great job
Bassman:
The drummer ans the two side bulls are my favorites. Great job again :hat off

Love the lava bases with continuity of the lava flow.

Banner: flames are ok, as usual, it's the skull and arrows that need more highlightens. They are too flat. I'm sure with a little bit of work you could improve them a lot.

I'd also cut away that rune on the banner for a nice free-hand rune of Hashut, but this is a minor detail.
Regards, Bassman
Kera foehunter:
looks great !!! nice painted army !! the drummer so cool

i know it too late, but the drum heads would look cool if it was a dwarf face stretched

over the drum