AGPO: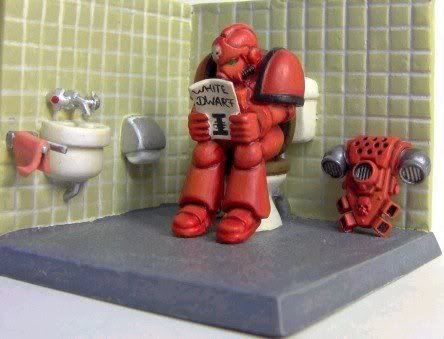 Kera foehunter:
ha ha where did you find it
Willmark:
Must be all that ceramite that is part of their special diet…
Razzick_Khan:
Ill raise you Space Marine/Sisters of Battle epic makeout. Lol


Sojourn:
lol. induced a chuckle indeed!
Willmark:
There ya go Sojourn, not only are the Sisters of Battle clothed but they are wearing armor to boot!
Sojourn:
and they keep a clean house/bathroom. good for her
Theory_Man:
not only are the Sisters of Battle clothed but they are wearing armor to boot!

Willmark
"For the Emperor!"
In the Grim world of the future you got to need some "protection".
zorn sabretooth:
yeah i you could a stt (sexaully transmitted tyranid)
Narflung:
Thats the exact way I would picture a blood angel on the toilet too…
furrie:
cool pics, they realy are funny
minty:
right some people have to much time on there hands

but I don't think that SM has got the right idea, I mean girls like that are awesome for a quick thing but just think what happens when you upset her. Bolter round in the face ouch!
Grish:
Some people have too much time on their hands?

In forum devoted to modeling and playing with toy figures? My mind is blown! I thought this was workaholics only.
AGPO:
lol Grishnakh, I think its meant to be relative. Some surpass even us
Hashut's Blessing:
Great idea to have them "doing the business" in their armour. Only thing that'd have made it better is if they'd painted it so it looked like their trousers weren't covering the butt… (Not for Slaaneshi reasons, honest!)

When I saw it said epic makeout, I was thinking some kind of horrid fanfic of a genetically modified, sterile orgy of armoured zealots that shoot movement!
Godbob and his jolly rogers:
i all ways thought space marines and sister would be together but could not tell anyone because the gaurdsmen would be jealous
AGPO:
Lets face it if everything is in proportion then compared to a 9 foot tall space marine a poor guardsman wouldn't stand a chance
al-hashut:
I dunno, i can imagine all them 'roids would have an adverse effect on the labedo astartes. Plus, it takes some serious cojones to go toe to toe with nids with nothing but a laser pen.
Godbob and his jolly rogers:
Lets face it if everything is in proportion then compared to a 9 foot tall space marine a poor guardsman wouldn't stand a chance

AGPO
ture the guardsmen have to live with normal women:P