Snotling:
Greedings, dark servants of Hashut! :hat off

i didn't knew how to get bolt throwers. most of them are wooden and the minis are expensive. but hey, who cares, i'll build one (or better, two :))!

so i had to plan the project. ballistas are boring, everyone has a ballista as a bolt thrower, i wanted something… more evil :mad. so… this is the result, a metal bolt thrower cannon, a kind of a harpoon, but without the rope.

ta-taa!



comments welcome…

well, here's another thing i want to show you: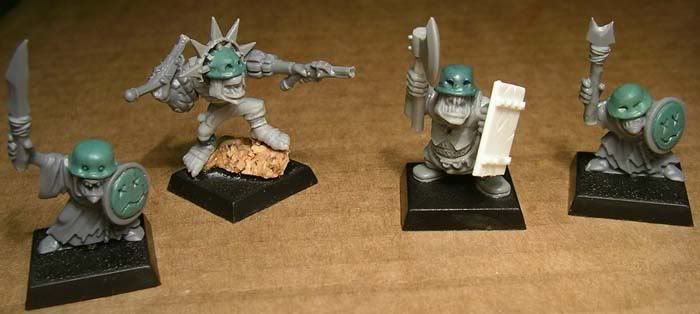 they are hobbos, MY hobbos! :mad

all my hobbos will get helmets, so you can see neither ears, nor the nose. i make some of them bigger than the other and will use skaven and zombie bodys, too. maybe i'll get some more ideas how i can make them look more different to normal gobbos in the future.

i like them, because they are pretty fast to convert, especially these from the BfSP box (HW+Shield). the other guys are from my "Hobbo-Elite"(light armor, HW+ shield):). the hobbo with the pistols is the champ. one pistol is a hand weapon, the other is the shield… the pistols are only an illusion :~

okay, they are real and hobbos can't get pistols, but who care… it's all about cool-lookig minis

so… more comments, please! :hat off