Stiglitz:
Hello at all and greetings from Germany!

I wanted to start a CD army for a couple of times. I registrated to this site over 2 years ago but (how so often) I skipped the project and moved to something else…

Now I will try again - wish me luck this time.

In the meantime, something changed - now we have an armylist from Forgeworld. To be honest, I'm not sure, if I should be happy about it. It is an expensive book and only in english and I can't expect every opponent to know it - and many gamers dislike playing armies they don't know. The K'daii destroyer (often regarded as overpowered) doesn't help.

But on the other hand, without the Forgeworld book there would be only Ravening Hordes or diverse inofficial Army lists. But I'm just not sure, if the Forgeworld list will be accepted…

So, how are your experiences with gamers or tournaments accepting our new army list? Especially experiences from german tournament players would be interessant, but I would be glad to hear any experiences.

Many words to come to this conclusion: I will try not only to make a Legion of Azgorh Army but will try to make a "count as" army as well. Two Count as armies, to be honest.

Beside Legion of Azgorh, I want to make this army fit as Vanilla Dwarf army and as a Warriors of Chaos army as well.

The Vanilla Dwarfs are the most fitting stat-wise, of course. And the warmachines are great, too. But I miss the Bull Centaurs, the sorcery and the monsters.

With a Warriors of Chaos army I have fighty sorcerer characters, can mount them on monsters to count as Taurus or Lammasu und can make Bull Centaurs count as Chaos Knights or Dragon Ogres (not sure, which I should take yet). I can take Giants as well… And a Hellcannon to count as as Earthshaker.

But the stats are not as fitting… For example, I would give the Chaos Warriors Great Weapons, to "reduce" the high initiative. And I'm missing Blunderbusses.

So, I want to start with units and models, I can use in all three army approaches. (Later on, naturally I will make units, which fit only in two or one of the army lists…)

Chaos Dwarf Warriors (counting as Infernal Guard/Dwarf Infantry/Chaos Warriors). I want to make them with shields (Legion of Azgorh warriors have always the shield) and handweapon/Great weapon. I'm planning to give them great weapons in the hand, that can count as both… saying it is a great weapon in one game and a handweapon in the next game…

Deamon Smiths (Deamon Smiths or Prophets/Runesmiths/Chaos sorcerers)… I will try to give them some armor and shield. There are great conversions in this forum for sorcerors I will try to copy. Especially the BfSP cannon crew converted to a fireball wielding sorceror. (Sadly, it would look a little inapprobriate for a runesmith).

Battlestandard Bearer: A must under the "new" edition (I must admit, I have not played for years - I don't have an actual ruleset, nor Legion of Azgorh or Warriors of Chaos army books… only the actual Dwarf army book)

Earthshaker Cannon (Earthshaker Cannon/Grudge Thrower/Hellcannon)

Hobgoblins… more on this in another post…

For the conversion of my Chaos Dwarf I was looking for a simple conversion… I would have loved to make big hats, but I shyed away from making faces and tried instead helmets. My Characters will have Big Hats.

So, here is my first attempt. He will get a shield later on.

Critics and Comments are welcome.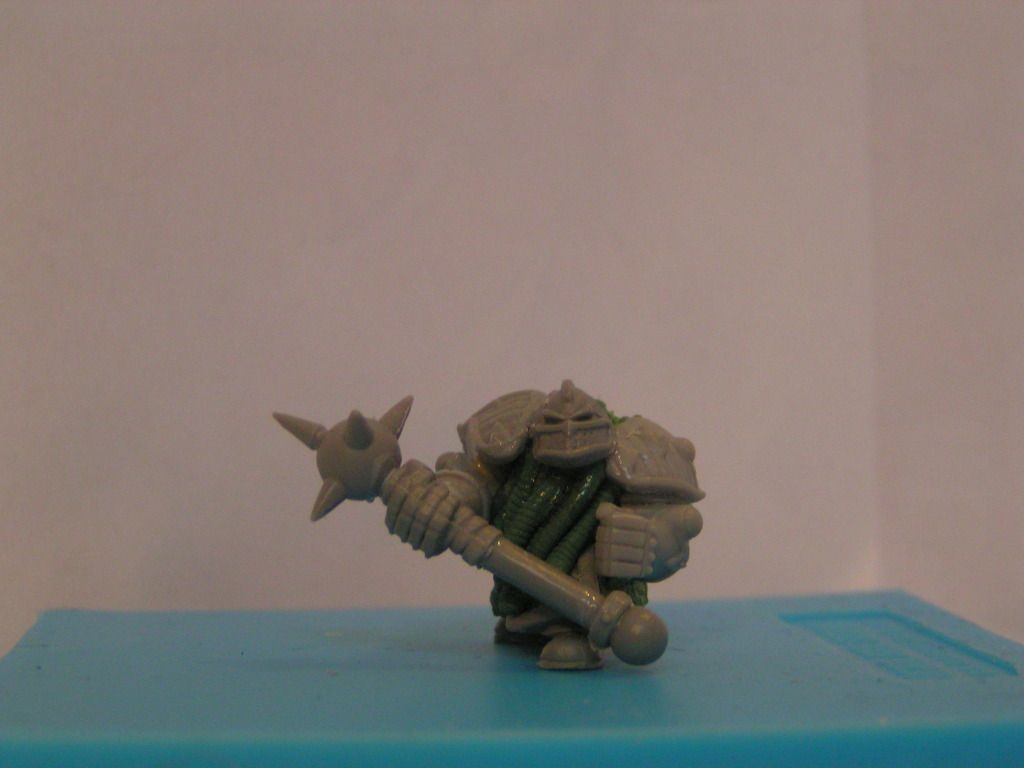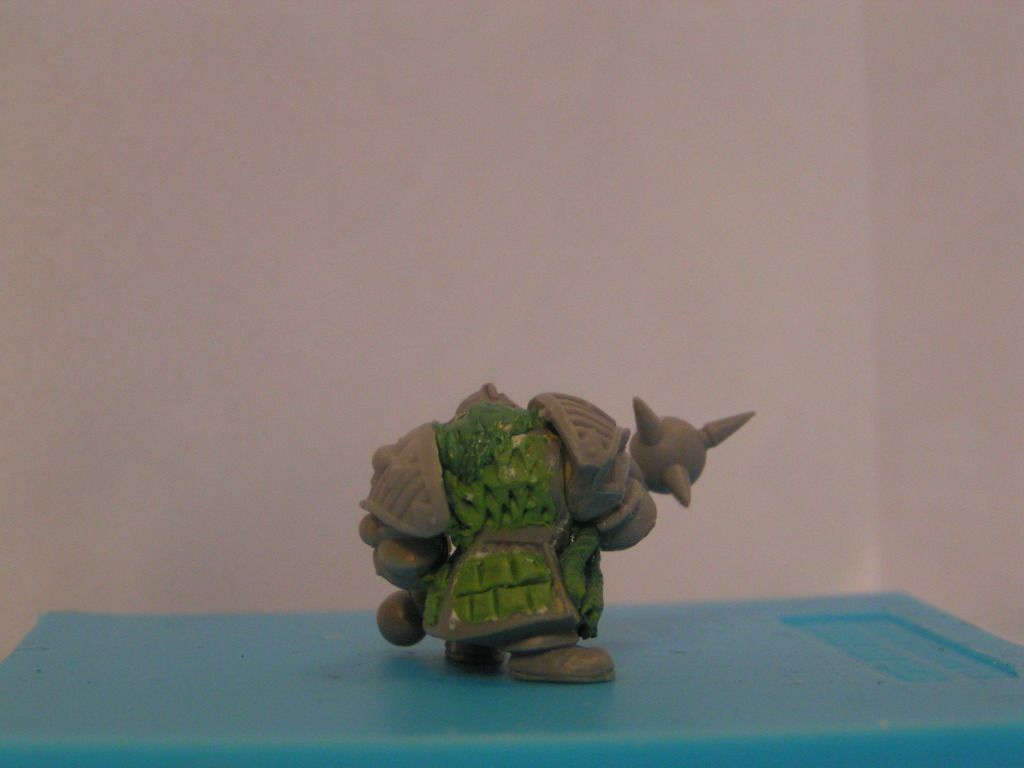 Sorry for the long blablah and sorry for my bad english.