grunts:
Hey all!  I decided to take a break from painting my Black Orcs and start converting the Bull Centaur Hero for my WCM Tournament army.  Woohoo!  I haven't made any Bull Centaurs for my army yet, let alone even consider how I'm going to go about building them.  So I started rummaging through my bits box (which took about an hour, its a big box).  What I settled on for the body was an orc boar.  I didn't like how short it was, so I decided to swap its legs with the regular empire warhorse legs.  I wanted a really strong upper torso…and since I've been painting Black Orcs for the last couple of days the choice was easy.  So here's where its at so far: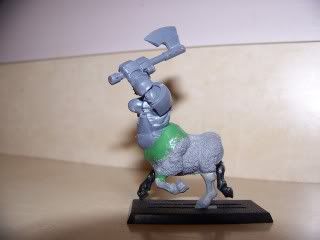 I gave him a great weapon as thats what I have him equipped with for the tournament, and the big armoured blorc hands will make suitable Gauntlets of Bazhrak with some small spikes added.

I'll be green-stuffing on some armour to the bull torso, but I'm still unsure of what I will use for a head.  I'm thinking I might just stick with the Blorc bits and just heavily modify one of the plastic heads.  Any other suggestions on what will make for a better head?  Or any suggestions for anything for that matter would be appreciated.


---
[align=center]
2017 Image Salvage
[/align]