Nicodemus:
Picked up the new Warhammer Quest Silver Tower game. From the perspective of the old Warhammer Quest game this is definitely NOT Warhammer Quest, but something similar.  Make no mistake, it's a different game, which should have been given a different name. GW is just cashing in on the name at this stage to help with marketing and sales.

At any rate, I'm optimistic that everything can be ported over to the old format, although the Hero models are generally taller (all except the dwarf) the board sections and enemies will all fit in nicely.

I wanted to add 3D boards to my WHQ collection, but looking at the new tiles for the game this is going to be challenging, to say the least. They are very detailed.  Most of the board sections have a baked flood plain look to them, albeit with Tzeentch colours, so replicating this was my first challenge.

I used some material called Distress Crackle Paint. It's really a gel that can be painted on. I painted this directly onto some extruded low density insulation foam (roughed the surface a little with some sanding first). It looks like hair gel initially when applied: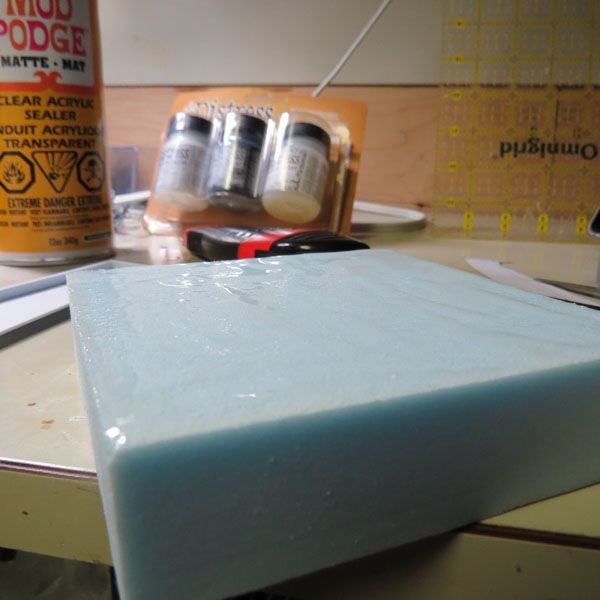 When it dries it creates random cracks that are of the same size and scale as those used on the board sections.  I then hit this with several passes of Mod Podge matte spray so that I'd get an even coating. I opted for the spray over the brush-on variety as I didn't want to disturb the cracked surface.  The accelerant in the Mod Podge dissolves the foam, so in a few thin spots it distorted the underlying material, but I kind of liked it in this case as it was very subtle.  Next time I'll probably prime the foam first with some black acrylic paint before the crackle paint.

Once that dried I painted the surface with black acrylic paint and made sure to get into all the cracks.  Priming with black first on the foam would make this step less critical, but I wanted the black base to work up from.  I then mixed some dark blue and did a very generous dry brush until most of the surface was dark blue.




I then dry brushed blue and then a very light blue-green and finally some white for highlighting… pretty good start. I think to make the actual patterns I'll cut the designs out of plastic, prime them and hot glue them down to the foam, then prime the foam and apply the crackle paint only where it is needed, instead of sticking the overlays down on top of the crackle paint.




With the layer of Mod Podge it's pretty strong. I can pick it with a finger nail and it doesn't come off.  Once I give it a final spray with a triple coat of matte finish like I've done for my other WHQ boards it should hold up nicely!

The colours clearly need some tweaking and need to be lighter, but it's a step in the right direction!

~N