Grimstonefire:
Here is my latest scratch built CD warmachine.  Some of you will have seen this already from the Hand of Hashut forum.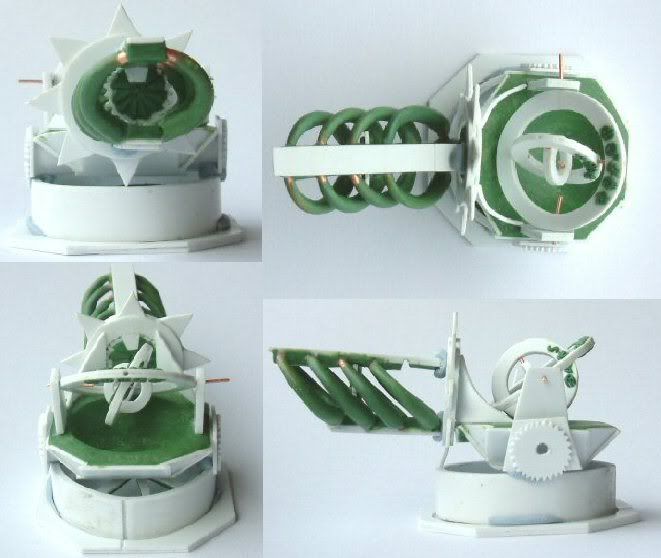 It doesn't have any ammunition :o  The idea is that 1 of the CD crew will be sculpted to be reading from books on daemons. As they read the gyroscope begins to turn, faster and faster, then when the gunner pulls a lever a tear in reality opens up in the middle of the gyro. From this tear a beam of daemonic energy goes shooting out, which then possesses and mutates anything it touches.

In the middle of the big star part, and further down the barrell there are focusing things. These were basically supposed to be like on a camera, they open for a second or two then shut again. The gunner crew has a chance to modify how far it shoots by adjusting these. The barrell is designed to be very open so that the daemonic energy does not bind itself unnessarily to it.

There is still a lot of work to do, I've done a bit since those photos were taken:

- I've chopped a ring off to shorten the barrell, and done some cogs to go down in the base.  

- I've mounted it on a 50mm base, which has a mechanical leg in each corner (with pistons and an adjusting valve)

- I need to build some housing off the back to try and balance the whole thing out visually.  This will have the back of a Dwarf cannon on there somehow, for binding shells.  

- I need to sculpt runes all over the gyro circles, both sides.

- I will attach some of the miner blast charges to it in places. Because of the fluff I've written the CD have a massive tear to the Realm of Chaos under Daemon's Stump. So they need a way to stop this machine in a hurry if something goes wrong…

- Because it will be too perplexing for people otherwise, I need to sculpt the daemonic blast shooting out, and the tear itself :sick  That will be very, very hard to do well.  A real challenge…  Painting it will be even harder



- Lastly I need to finish the crew and do a larger scenic base.

Crew 1 = Reading from book on stand.  This one has already be done, converted from my Brotherhood green.

Crew 2 = Handling a shell (artillery) at the back of the warmachine.  He's basically syphoning off the daemonic energy whilst its there.  Waste not want not ;).  I've done about half this one.

Crew 3 = Holds the Miners plunger, which will be wired into all the blasting charges by some wire I've twisted together.  Not started yet, but it will be converted from one of the many failed Dwarf greens I have lying around.

I'll take some more pics this weekend.