"Sharpen da knives…"
---
Zanko & Antenor Presents: The 33rd Artisan's Contest on Chaos Dwarfs Online!
This contest has been sponsored by @Zanko ! The gold winner will carry home this unpainted rider miniature:
The silver winner will grab a kit of 15mm Tjubling Skull Masks from @Tjub and Admiralty Miniatures: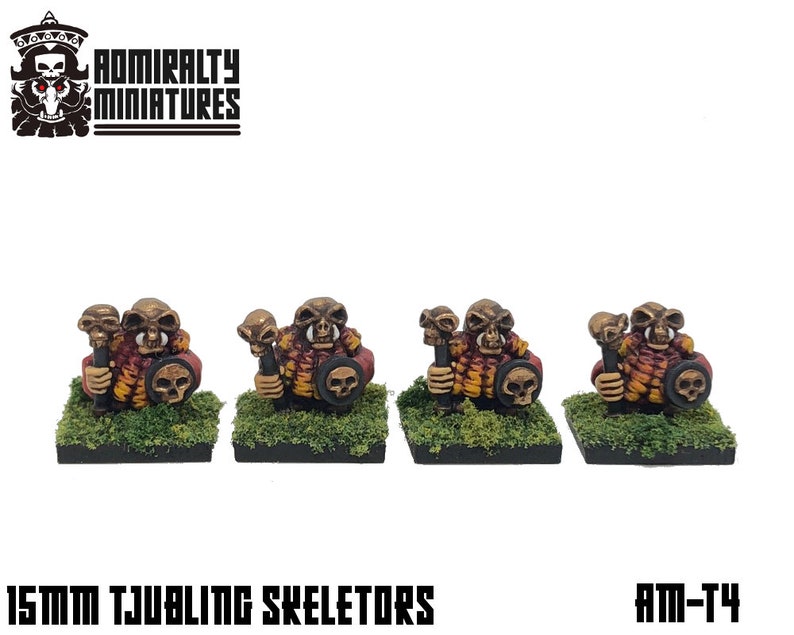 While the bronze winner will receive a kit of 15mm Tjubgob Command #1 from @Tjub and Admiralty Miniatures:
And finally one lucky random draw winner will comb home an unpainted Evil Dwarf Grenadier, kindly donated by @Antenor !
Subject Matter: Hobgoblin Artwork Challenge!
This time around we want you to draw, paint or otherwise create some kind of non-miniature artwork or concept sketch which in some way feature one or more Hobgoblins or Hobgrots, including your own reimagining of the concept - that cruel and sneaky middleman slave caste from the steppe who has grown fat lording it over the Dawi Zharr's hordes of lesser thralls!
You could tackle this theme in a myriad ways. For instance, you could depict one or more Hobgoblins stabbing someone in the back, or Hobgoblins kowtowing to their Chaos Dwarf masters, or spreading lies with malicious intent, or dragging screaming captives in ropes behind their giant wolves, or flaying an Orc with sadistic glee, or whipping a Goblin, or mutilating a Gnoblar, or outriding pursuing cavalry, or Hobgoblins sleeping on a bunk, or having a great knifing booze party, or offering sacrifices to shady figures, or getting ripped apart by angry Greenskins, or bossing around slaves labouring with building a megalomaniac monument to their Sorcerer-Prophet overlord, or building a tent on the steppe, or sewing a cap, or shooting arrows at a bound prisoner, or something else entirely. Let your imagination run wild and be welcome to surprise us all with weird interpretations!
And this round, the gold-winning artwork will have the honour and duty of becoming the front page image for a future Brazen Bulletin webzine!
Specifics
Subject: Hobgoblin Artwork
The Due Date: 11:59 PM December 11th, 2021 EST (Eastern Time Zone)
Please read the full rules that apply to the Artisan's Contests before submitting your entry.
Submission
All entries must be sent either to the @GoldenHat account and/or to chaosdwarfsonline ( at ) gmail.com no later than the due date. (Entrants have approximately 9 weeks to complete entries). If for some reason you are having trouble with your submission, contact @Admiral. In order to avoid problems, entrants should not wait until the last minute to submit their entries.
How to Enter
Submissions should include one picture file only. Your one picture file with art may contain any number of objects, figures and scenes. Pixel art and animated Gif art are allowed. Upload your entry to the Internet, e.g. with Imgur or with this forum's direct upload function. Next, send a PM to @GoldenHat (a special user that all Staff have access to) containing the links where the pictures can be found. (Note: This is the same as previous contests).
If you win:
Walk across the backs of the cowed masses you have scorned and pushed aside, in order to take your place at the top in the vaunted Artisan's Contest Gallery.
Receive the Artisan's Contest medal for your online persona.
Win miniatures! See above for details.
Once all entries are received a thread will be created for voting and determining the winners!
If there are any questions it is best post them here so that everyone can benefit from any details or clarifications that may arise.
Should you wish to donate a prize to the contest, please PM @Admiral and he will sort it out with you and the Staff.
Good luck everyone!
The Staff