Grimstonefire: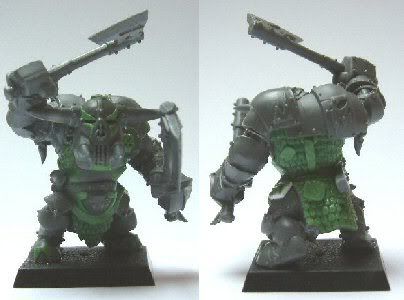 Well I've got myself the regiment of 20, so off to a good start! I'll give them scalemail over the chaimail, maybe doing a few weapon swaps here and there.

Should I do some detail work over most of the armour? Its an interesting idea, as they would have made the armour to Orcish tastes, but with their own style stamped on it.

So I feel I should do something in places as it's very bare, but what? Daemonic orc faces? Chaos arrows? Or perhaps some fancy knotwork (lots of work though)?

Or stay away from all that and add things attached to the armour instead? Like chains holding skulls on/ money bags/ loads of spikes/ extra armour plates etc?

I did have thoughts to theme them also to hate Dwarfs, so beard plaits etc and dwarf armour plates? Or would that all be too much?

The possibilities are endless, and that's before I even think about the bases.

I'll put up a WIP shot of the first one so I can decide the theme before starting on the rest.