The plan here is to collect uses for the Green Stuff World Roll Maker Set and the XL Version which includes a different rounded texture. @MichaelX and I figured it would be great to display the experiments and uses we've found as well as soliciting the community for additional ideas. It is an interesting tool with some highly practical and also niche implementations. A true array of the possibilities would be vast indeed. Let's see what we can formulate here!
Experiment with us! Try different orientations, try twisting your tubing after removing it from the roll maker, try sequences of rolling, anything you can come up with. Please share, even if you don't see a use for a particular pattern, perhaps somebody else will!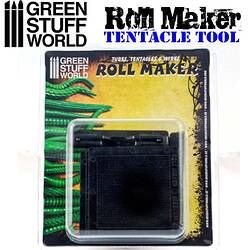 Note GSW advises using a toothbrush for cleaning the plates as needed. Be sure to use plenty of water to avoid sticking while creating tubular masterpieces.
Michael has also kindly uploaded a few printable plates for those looking to DIY.
Large
Small